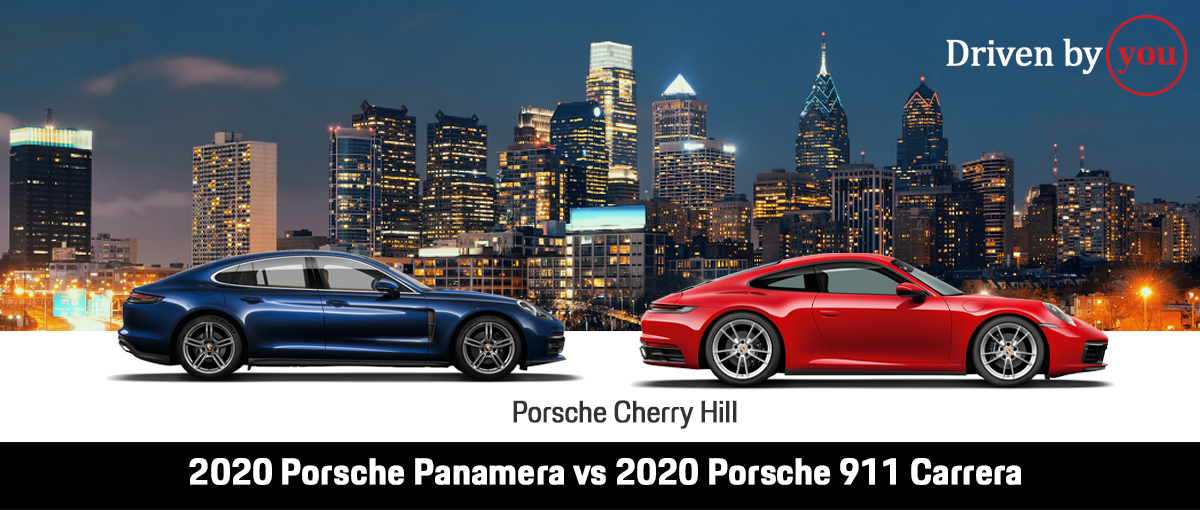 If you are looking for an exhilarating drive in Philadelphia, you want to know the differences between the 2020 Panamera vs. 2020 911 Carrera at Porsche Cherry Hill. We look closely at both luxury Porsche models, including the pricing, interior, exterior, safety features and performance, so you know what to expect.
2020 Panamera vs 2020 911 Carrera: Pricing
You can get behind the wheel of a 2020 Porsche Panamera for $87,200, while the new 911 Carrera starts at $97,400.
2020 Panamera vs 2020 911 Carrera: Performance
The 2020 Porsche Panamera offers six different engine configurations. The base model includes a 330-horsepower turbo V6, but you can also get the 4S with a 400-horsepower twin-turbo V6. The Panamera 4 E-Hybrid uses the same engine combined with an electric motor to make 457 horsepower. GTS models include a 453 horsepower twin-turbo V8, while the Turbo models come with a 550-horsepower V8. Finally, you can choose a Turbo S E-Hybrid to add an electric motor for a combined 440 horsepower. All of these engines include an eight-speed PDK transmission, with your choice of rear- or all-wheel-drive.
In comparison, the 2020 911 Carrera includes a 379-horsepower 3.0-liter twin-turbo flat-six engine. However, you can upgrade to the 443-horsepower version of this engine. While the eight-speed PDK is available, there is also a seven-speed manual transmission to choose from. Plus, this sports car includes standard rear-wheel-drive, with the option to add all-wheel-drive.