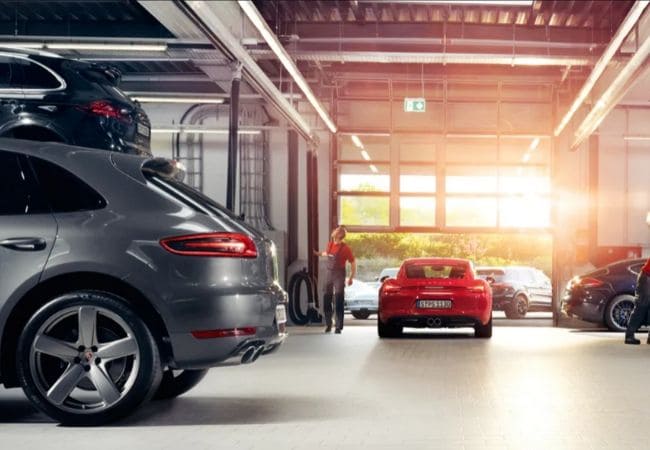 The Porsche Certified Technicians at Porsche Cherry Hill are factory-trained in taking care of your luxury vehicle. When you trust your vehicle to our service department, it means you allow it to receive the best care possible.
What Makes a Porsche Certified Technician Qualified
Porsche Certified Technicians work exclusively at Porsche dealerships. They have complete access to specialized Porsche tools and the expert test equipment needed for proper maintenance and repairs. Our Porsche technicians have unrivaled experience in every aspect of caring for your Porsche vehicle.
Beyond this, our technicians have a deep passion and interest in Porsche vehicles. They continue to receive training and learn the latest about Porsche vehicles.
Not everyone can become a Porsche Certified Technician. Before beginning training, they must already be a certified mechanic. Then, they are permitted to go further with Porsche training. There's a lot of hands-on activities and tests that must be completed, as well as several written tests each year.
At Porsche Cherry Hill, we ensure that our technicians are always learning about what's new. From dealing with extensive motor issues to troubleshooting an electrical problem, it takes a lot of skill to work on the Porsche vehicles. We supply our technicians with everything needed to be successful and care for your vehicle.
Bring Your Car to Us
Do not trust anyone but a Porsche Certified Technician to work on your vehicle. You can schedule service or maintenance today. We are ready to rotate your tires, change your oil and perform the other necessary maintenance tasks that keep your Porsche in optimal condition. If you are having advanced problems, you can count on our team to get to the bottom of it and repair it quickly. While you are here for your appointment, make sure you also check out the new Porsche 911 for sale in Cherry Hill, NJ.